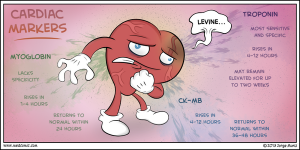 Cardiac Markers (Part.2)

CK-MB isoforms

The CK-MB isoenzyme exists as 2 isoforms: CK-MB1 and CK-MB2. Laboratory determination of CK-MB actually represents the simple sum of the isoforms CK-MB1 and CK-MB2. CK-MB2 is the tissue form and initially is released from the myocardium after MI. It is converted peripherally in serum to the CK-MB1 isoform rapidly after symptom onset.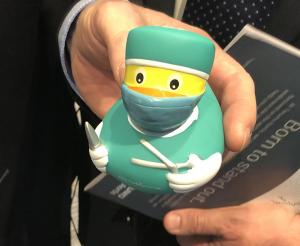 An inexpensive monitoring approach to procedures under local anaesthesia

Hans-Henning Eckstein (Technical University of Munich TUM, Munich, Germany)and Martin Storck (Klinikum Karlsruhe, Karlsruhe, Germany) show Vascular News the rubber duck that they give patients undergoing vascular and endovascular procedures under local anaesthetic. The patient holds the duck, which gives out a squeaking noise when squeezed, thus alerting the physician during the procedure in an effort to help reduce complications such as clamping ischaemia and stroke when performing carotid procedures.